Mike Pompeo: Hopeful That We Can Take Down The Tensions Between Indian And Pakistan
March 01, 2019 06:10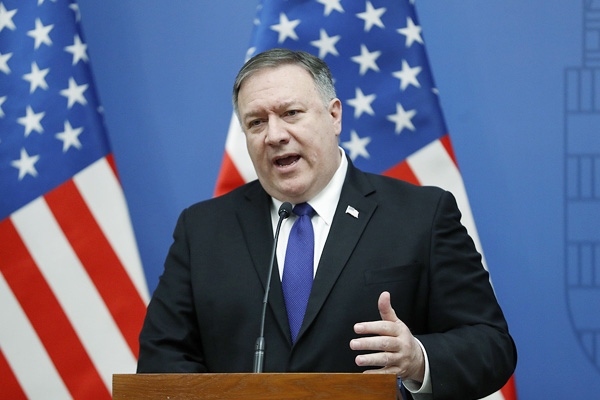 (Image source from: politico.com)
US Secretary of State Mike Pompeo on Thursday said that United states is working very hard to de-escalate the tensions between Indian and Pakistan and bring the situation to normal.
He also said he had a good conversation with leaders of both the countries and hopeful to bring down the tensions.
In last few days Secretary of State, Pompeo dialed to both country leaders including National Security Advisor Ajit Doval, External Affairs Minister Sushma Swaraj and her counterpart Pakistan Foreign Minister Shah Mehmood Quershi.
"We were and continue to be very engaged with the issue between India and Pakistan," Mike Pompeo told reporters travelling with him from Hanoi, Vietnam to Manila in the Philippines.
He said, "I spent a good deal of time on the phone last night talking to leaders in both countries, making sure there was good information exchanged, encouraging each country to not take any action that would escalate and create increased risk."
"I had good conversations, and I am hopeful that we can take down the tension there, at least for the time being, so they can begin to have conversations that don't portend risk of escalation to either of the two countries. So we're working hard on that,"Pompeo said.

The other day US President Donald Trump when asked about India-Pakistan. He responded by saying, "I think reasonably attractive news from Pakistan and India, they have been going at it and we have been involved and have them stop, we have some reasonably decent news, hopefully it's going to be coming to an end, this has been going on for a long time, decades and decades."

Earlier, the US Department of state in a statement urged both India and Pakistan to "cease all cross-border military activity" and "take immediate steps to deescalate the situation, including through direct communication"
Leaders across the world called onto India and Pakistan and asked to exercise restraint which are on escalating path ever since terror attack in Pulwama.
-Sai Kumar