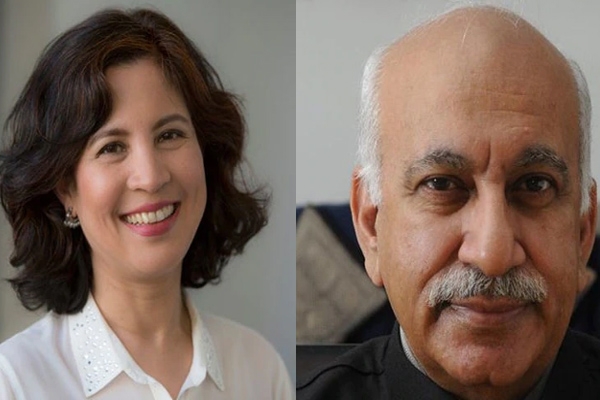 (Image source from: www.thelallantop.com)
The editor-turned-politician MJ Akbar, who had to leave office as union minister over sexual harassment allegations against him, has now been accused of rape by the United States-based journalist who worked with him over two decades ago.
MJ Akbar has dismissed the allegations as false, his attorney told The Washington Post, which has published the first person report of Pallavi Gogoi, an editor at the National Public Radio (NPR).
Pallavi Gogoi writes that MJ Akbar was the Editor-In-Chief at The Asian Age when she joined the newspaper as a "22-year-old star-struck journalist".
She says she was "mesmerized by his use of language and his turns of phrase" and took all the "verbal abuse" as part of the learning process.
She soon became the editor of the op-ed page, but ended up paying a "very big price" for the break, she says.
Unfolding the fright when she had gone to show him the op-ed page, she writes, "He applauded my effort and suddenly lunged to kiss me. I reeled. I emerged from the office, red-faced, confused, ashamed, destroyed."
The second incident was a few months later, when during the launch of a magazine, "he called me to his room at the fancy Taj hotel (in Mumbai), again to see the layouts. When he again came close to me to kiss me, I fought him and pushed him away. He scratched my face as I ran away, tears streaming down."
It was followed by another call from her boss, this time from a hotel in Jaipur. "... even though I fought him, he was physically more powerful," she alleges.
The cycle of abuse and assertion of power continued when he "defiled me sexually, verbally, emotionally", she adds.
Pallavi Gogoi says she had confided in her friends, who were also allegedly assaulted by the author-editor. "I was in shreds - emotionally, physically, mentally."
She wraps her piece with, "I am writing this to support the many women who have come out to tell their truth. I am writing this for my teenage daughter and son. So they know to fight back when anyone victimizes them. So they know never to victimize anyone."
Those before me have given me the courage to reach into the recesses of my mind and confront the monster that I escaped from decades ago. Together, our voices tell a different truth @TushitaPatel @SuparnaSharma @priyaramani @ghazalawahab
My story https://t.co/DG5dT7TEUU

— Pallavi Gogoi (@pgogoi) November 1, 2018
More than 20 former colleagues of MJ Akbar have appeared with their versions of abuse by a powerful newsman. He sued one of them for defamation.
MJ Akbar has accused Priya Ramani, the first woman to call him out, of "intentionally putting forward malicious, fabricated and salacious" allegations to harm his reputation.
After resigning as junior foreign minister on October 17, MJ Akbar said in a statement, "Since I have decided to seek justice in a court of law in my personal capacity, I deem it appropriate to step down from office and challenge false accusations levied against me."
Ramani said she was ready to fight the defamation complaint and "truth and the absolute truth is my only defense". Women who have spoken against Akbar "have done so at great risk to personal and professional lives," she said.
After Ramani more women posted allegations against Akbar.
-Sowmya Sangam