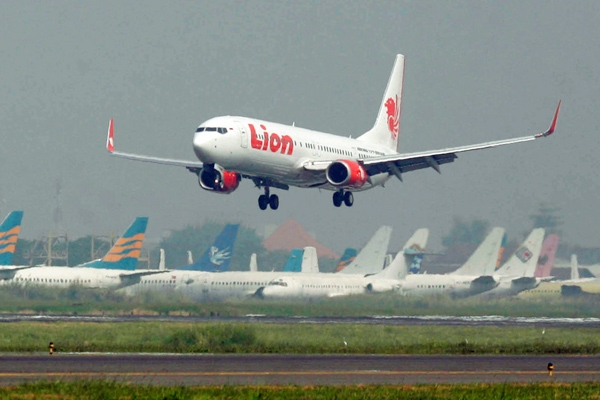 (Image source from: www.khaosodenglish.com)
A passenger on Lion Air Flight 610, which killed all 189 people on board when it crashed into the Java Sea on Monday, shared video footage of himself and others boarding the plane.
Paul Ferdinand Ayorbaba shared the video on WhatsApp with his wife, Inchy Ayorbaba. She saw it at 6:30 a.m. and then went back to sleep, the Associated Press reported.
The plane crashed less than a minute later.
"It was his last contact with me, his last message to me," Inchy Ayorbaba told Indonesia's TVOne, according to the AP.
It was Paul Ferdinand Ayorbaba's first trip to Indonesia's Bangka Island.
The video shows the last images of some of the passengers who were killed when the 40-meter-long Boeing 737 Max 8 crashed, minutes after leaving Soekarno-Hatta International Airport in Jakarta, Indonesia.
No survivors have been found.
It shows many of the routine moments of air travel, including people queuing to have their boarding passes inspected and wheeling carry-on bags towards the plane.
At one point, it zooms in to Ayorbaba's own boarding pass and shows the flight number, JT 610.
He as well zooms in on a waiting Lion Airplane and to another Lion Air jet in the distance. He then focuses on his own waiting plane, according to the AP, where a woman can be seen climbing the stairs and going into the aircraft.
The video's timestamp shows he shared the video with his wife about 35 minutes before departure, Inchy Ayorbaba told TVOne.
She said she heard the news that the plane had crashed at about 9 a.m.
"I went back to watching the video," she said. "I saw the boarding pass he showed in the video. I started to believe he was in that crashed plane.
"I kept calling him, sending WhatsApp messages, hoping that he didn't go, or something made him cancel his trip but there was no answer."
Rescuers have recovered 49 body bags of human remains and given them to investigators, CNN reported.
Experts found a 22-meter-long object that they think is part of plane, according to the AP.
-Sowmya Sangam